MYHockey News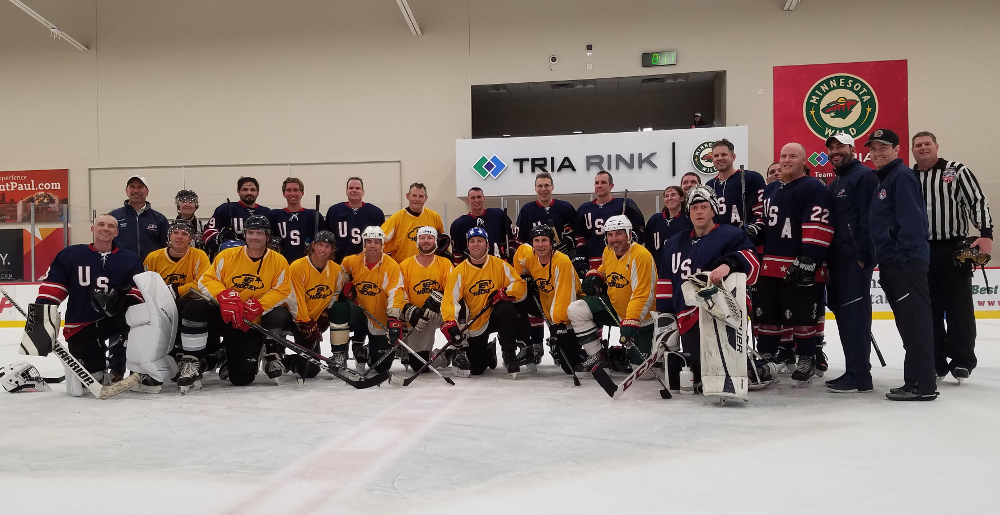 Blind Hockey Summit Shows Sport
By Scott Lowe
MYHockeyRankings.com
Hockey truly is for everyone.
Nowhere was that more evident than at last weekend's sixth Blind Hockey Summit in St. Paul, Minn. Hosted by the Minnesota Wild, USA Hockey, the Minnesota Wild Foundation and Minnesota Hockey at the Wild's practice facility, the event featured blind and visually impaired hockey players from all over the United States – and a few from Canada.
Those players, along with countless others who came out to try the sport for the first time, converged on one of America's hockey hotbeds as one of USA Hockey's fastest-growing disabled disciplines took another giant step forward. The summit included a coaching clinic, a game against NHL alumni, a "Try It" event, games and the selection of the U.S. National Team.
"If you want to get an understanding of the growth we are talking about," said national team defenseman Kevin Brown, "Minnesota hosted this year's summit and there wasn't even a team there a year ago. To go from not having a team a year ago to having the biggest event for blind hockey held in their facility shows how much interest is there and how big this is becoming in the blind and visually impaired community. There were new players from Seattle, San Diego, Colorado, Maine, Virginia. It's really grown since I got involved almost three years ago."
While blind hockey has been played in Canada since the early 1970s – with some of the sport's pioneers having continued to play into their 70s – it wasn't introduced in the United States until the inaugural Blind Hockey Summit was held in Newburgh, N.Y. in 2014. In the three years that USA Hockey has sanctioned blind hockey, the number of registered players has grown to nearly 160. There are now teams and programs in Washington, D.C., Pittsburgh, Minnesota, Hartford, Chicago, Colorado and St. Louis – with two programs in the New York City area.
"The growth of the sport in the U.S. in the last handful of years has been astonishing," U.S. National Team goalie Doug Goist said. "It's personally a bittersweet feeling for me because I know how hard and frustrating life can be when I compare it to the life I was living during my former sighted years. Part of me does not want to see an explosive growth in the numbers of youth playing blind hockey, because that means we are still a long way from curing blindness – and I know the challenges they will face in all aspects of their future lives. But a bigger part of me is super excited and grateful that these kids now have a real sport and activity that will help build confidence in themselves as well as help them understand the importance of teamwork, which is vital for future family, friendship, job and relationship success."
For blind hockey to continue to grow, there will need to be more opportunities for young people to be exposed to the sport. Many current players participated in hockey or other sports when they were younger, lost their vision later in life and have been reenergized by having an opportunity to rejuvenate or continue their athletic careers.
Enticing visually impaired kids who haven't been exposed to hockey or competitive sports to try hockey presents a different set of challenges, but has proven to be extremely rewarding to those who take the plunge. Players of all ages, sizes and skill levels are invited to participate in the various "Try It" programs at blind hockey events such as last weekend's summit, and the interest continues to grow.
The positive impact of participation cannot be overstated. For some players who suffered vision loss later in life, the opportunity to play a sport they thought had been taken away from them offers a feeling of rebirth. For other athletes who never played hockey, it presents an opportunity to compete and be part of a team again. And for youngsters who aren't as familiar with the sport, it offers a welcoming, supportive and non-judgmental community – along with the obvious benefits associated with regular exercise and physical activity.
Participation in blind hockey has been known to help relieve depression associated with vision loss and to promote self-confidence and a sense of belonging. It also allows players to be part of a peer group that faces similar challenges on a daily basis.
"I was nervous, uncertain, excited and scared all at the same time," said Brown of his first on-ice experience with the Washington Wheelers program at the Washington Capitals practice facility in Virginia. "Everyone was so welcoming. The volunteers were there to support you and extend a helping hand when you fell down. There was just this sense that it didn't matter if you were (Alex) Ovechkin speeding along the ice with the puck or someone trying the game for the first time that hockey truly was for everyone."
Brown was well into his 40s when he first took the ice at Medstar Capitals Iceplex that fateful Saturday night about 2-1/2 years ago. He had dabbled in roller hockey as a kid but never tried ice hockey despite exceling at several other sports. After skating that first evening he was invited back the following day to practice with the Wheelers. They offered him gear and skates, "So I said, 'what the hell' and went back.
"I went back with zero expectations, but by the end I was pretty motivated and inspired by the community I saw and inspired by the other folks playing," he recalled. "At the same time, I was grateful by the sense of power and confidence it gave me to be on the ice skating and competing. When life presents challenges, we just have to keep moving forward and good things will happen. For me that good thing was hockey, and it came along at just the right time."
After skating and practicing for the first time fewer than three years ago, Brown was named to the National Team for the second time at last weekend's summit and will serve as an assistant captain. Goist, on the other hand, was spotted in an Irish pub by blind hockey pioneer Craig Fitzpatrick a little over three years ago and invited to a "Try It" event.
"(Fitzpatrick was a) nice enough guy, I thought, but obviously completely insane," Goist said. "Having seen the speed of skaters, the puck and the proximity of immovable boards and glass all my life either at live NHL games or watching the Olympics, playing hockey blind seemed suicidal to me … I had zero intention of stepping foot on the ice. I just wanted to see if this was legit; I was so skeptical.
"Next thing I knew, I was being dragged to the locker room in my blue jeans and strapped up in goalie gear … After a little 3- or 4-year-old boy stepped out on the ice for the first time to shoot on me, I was hooked."
Just like Brown, a little over three years after that initial foray, Goist is a staple on the national team and among a group of veteran players trying to grow the game in their local areas as well as around the United States and internationally.
Canada and the United States are the only countries with blind hockey national teams, but there is hope that Finland, England, Sweden or Russia may field teams in the near future to allow for a World Championship tournament. The goal is for blind hockey to be a Paralympic sport in time for the 2026 games in Italy.
"It's incredible to be able to finally link a sport I remember seeing with a sport I currently play," said Goist, who lost his vision around the age of 30. "I only wish that I had known about blind hockey earlier in my life when I could have really benefitted from its therapeutic effects physically, mentally and emotionally during some pretty dark times."
Blind hockey is remarkably similar to the game Goist recalls seeing in his younger years. The puck is a little larger – about the size of a dish plate – is hollow and made of steel with ball bearings inside so that it makes noise when sliding along the ice. This helps the players keep track of where the puck is. The goal is the same width, but at three feet high it is a foot shorter than a regulation hockey goal. This is intended to promote keeping the puck low and on the ice where it makes the most noise.
Teams must complete one pass in the offensive zone before taking a shot, again giving teams an opportunity to transition to defense while knowing where the puck is. One of the officials blows a higher-pitched whistle to let the teams know when a pass has been completed. There is no body checking (although collisions do occur), the tag-up offsides rule is enforced with verbal cues provided by officials, standard International Ice Hockey Federation no-touch icing is applied and all players must wear full gear, including a helmet with a face mask.
Teams can roster players who have up to 10 percent of their vision, and players are assigned points based on their ability to see. Those with closer to 10 percent of their vision usually are forwards and are assigned three points each. Defensemen generally have five percent or less of their vision and count for two points. Goalies often are completely blind and count as one point. Teams may not have more than 14 points on the ice at any time, and goalies are blindfolded to make sure they can't see at all.
Obviously communication and listening for aural cues from teammates, coaches, officials and the puck are key for teams when it comes to positioning, following the puck and keeping up with the flow of play.
"Orientation is the key," Brown said. "The better the players communicate around you, the better your perspective will be."
Perspective also is important when analyzing how far blind hockey has come in a short time, thinking about the sport's future potential and the great opportunities that lie ahead for prospective visually impaired players.
"The friendships between players, coaches and volunteers (are what I enjoy most)," Goist said. "When you're first diagnosed with blindness, you think you are the only one dealing with such an unfair life hand until you meet others going through the exact same things as you. It is gratifying to see young kids learning that their value goes well beyond the level of their eyesight and that they can be a part of a team, they can contribute and they can be physically active and healthy."
For more information about blind hockey you can do a Google search about blind hockey programs in your area or go to the USA Hockey blind hockey portal at https://www.usahockey.com/blindhockey.