Hockey Snapshots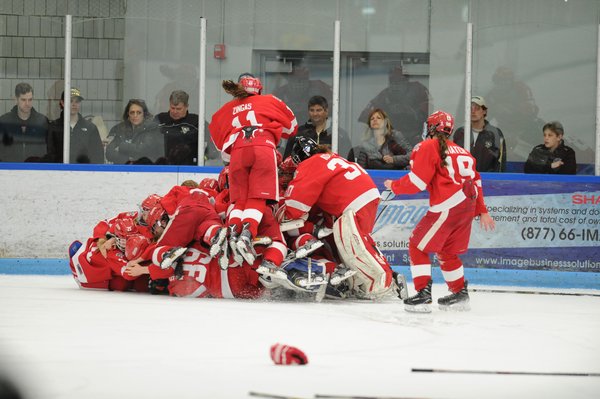 Hockey Snapshot: USA Champion Belle Tire Girls 16U Coach Mike Vigilante
There is no perfect recipe for winning national championships, but if you ask the coach of the newly crowned girls 16U team he would say it came down to the slow yet consistent progression of his team
Mike Vigilante, former player and now coach for the 2017 National Champions the Detroit Belle Tire 16U girls team, elaborated not only on the storybook ending of their season, but on the route his team had traveled to get them where they are.
"This team was built off of a nucleus of players we have had for 3 years now" Vigilante said. "The neat thing about this team is that a majority of them had been cut from other Detroit teams, and had been slowly improving and working hard to get to where they need to be."
The slow improvement came organically according to Vigilante, because the girls were the ones pushing themselves and wanting to train year round to see success in their results.
"This team was so coachable and manageable because they held each other accountable" Vigilante said. "One of the best attributes a team could have, and my team definitely had is chemistry. We have faced a lot of adversity not just this year but the past couple seasons and it shaped them from who they were as a team right from the get go this year."
Vigilante really believes that adversity also created an unique support system. The support system within the team not only made every player want to be their best, but wanted their teammates to be the best they could be as well. Their chemistry created a solid team this season, and once the national championship tournament began, gave them confidence to excel and win.
While the team was solid all season, it would never have been considered a favorite to win Nationals. Ranked 10th must of the season, Belle Tire is a great example of a team that put it all together when it counted. "In the games leading up to that championship game it came down to our shutout defense" Vigilante said. "I was seeing in that game our slow progression finally peaking and seeing the girls connecting on the ice."
Vigilante believes the girls success go beyond just their performance, and into how they were coachable players. There wasn't one player that one wanted to do it her own way they wanted to do it as a team collaboratively. The girls had clear consciences throughout the season, and it all just came together in the tournament.
The progression of Vigilante's team physically and mentally peaked in that tournament, and in the final 10 seconds of the championship game, Vigilante could not have been happier for those girls.
"I was on the bench and I remember telling the other coaches to watch and enjoy this moment, because you don't get those moments very often" Vigilante said. "All the hard work and sacrifice that every player has done just rolled into that moment and I was just happy for those girls." Similar to how there is no exact route to get to the national championship, there is also not a perfect plan in what to do in the aftermath.
"Enjoy it, but what's done is done" Vigilante said. "We've already been on the ice, but we will lose some players that are moving up. The girls learned to win and they earned it this year."
Vigilante knows the girls will only keep improving, but he thinks the most important thing for these girls to hold onto is the memory of what it was like to be a part of this team.
"It's what they've been through no matter where they've been or what they go" Vigilante said. "Down the road five years from now they will still never forget that feeling and what it took to get there."