Hockey Snapshots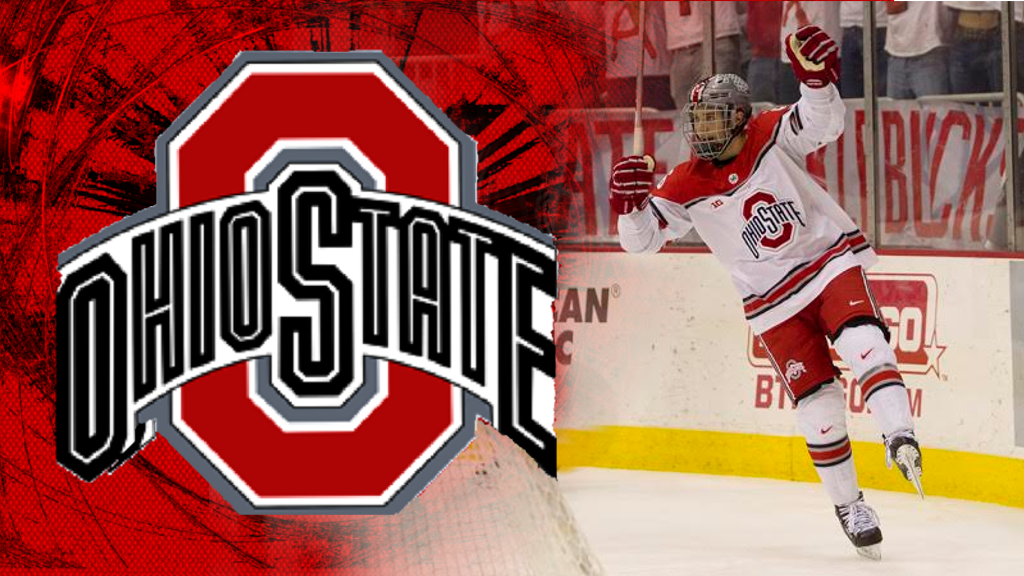 Hockey Snapshots: Mason Jobst
Growing up in the shadow of the Indianapolis Motor Speedway in Speedway, Indiana,
Mason Jobst
was not mezmorized by the race track. From a young age, he loved the sport of hockey, committing much of his youth to improving his hockey skills. He shot thousands of pucks every year and helped his dad with a backyard skating rink that didn't always yield winter ice. Like all players, he's had some significant accomplishments and some bitter disappointments. His goal from a young age was to play college hockey. Now, as a rising
Ohio State University
sophomore, Jobst reflects on his freshmen season and credits his success comes from his supportive family and talented teammates. While his family and teammates undoubtedly played a role in Mason's success, it appears he deserves some of the credit himself.
As a freshman, Jobst scored 30 points for the Buckeyes, with 12 goals and 18 assists. His aggressive offense lead him to be named OSU's
Rookie of the Year
and to the
Big Ten all-freshman team
.
"It was a great accomplishment and honor," Jobst commented. "Something I was not expecting. I just wanted to stay healthy and get strong my first year, and as the season went on I realized I could play at this level."
Jobst knew he wanted to play collegiately, but deciding where came down to location near his family.
"My family was definitely a factor in deciding to go to OSU." Jobst said. "My mom and dad went to many home games. Aunts, uncles and my high school buddies came to some games too."
His support system reaches beyond just family and friends, but to his former USHL team the
Muskegon Lumberjacks
coach Todd Krygier. Coach Krygier, currently an assistant at
Western Michigan
, knew Jobst could play at the next level. He saw Jobst not just as an influential player, but as a leader who served as a two year captain of the Lumberjacks.
"As soon as I got him, I knew he was going to be fantastic for us," Krygier said. "Mason is a competitor, he races to every puck, he will be first in the corners, he ,blocks shots, finishes checks, he really is just a pure hockey player."
Prior to OSU, Jobst played four years with the Lumberjacks, showing his courage and work ethic on and off the ice according to Krygier.
,
"He had to take a full year of college courses before he went to OSU," Krygier said. "In addition to that, he had the Lumberjacks and had a job at a restaurant as well. Most guys do not do that."
With juggling hockey, school and work, Jobst believes those years with the Lumberjacks prepared him for OSU, especially in growing more as a player and leader.
Krygier discussed how hard Jobst worked during games and workouts, and how his 5 feet 7 inches and 159 pounds size never affected him as a player.
"It was an issue for other people to get over," Krygier said. "Mason still played physical, he played heavy always protecting the puck. Too many people were caught up in his size, but he will continue to prove people wrong and continue to be successful."
Jobst is not resting on the success of his freshmen season. He spent much of the summer in Minnesota. Finding his workout facility largely empty early in the morning, Mason often had a solid workout and hundreds of pucks behind him before others rolled out of bed. His on ice training included skates with Minnesota's best, including a number of Minnesota Wild players. Skating with the top pros in Minnesota during the offseason is a privilege that is earned, not freely granted to college players. That was nothing new to Mason, however, as he earned the right to skate with two talented wingers his freshman campaign at OSU.
Jobst's approach to the classroom mirrors that of his time in uniform for the Buckeyes. He works hard, takes his classes seriously, and is majoring in Business with hopes to go into Real Estate. For years, his goal was to play college hockey. While one could say that he's reached that goal, it doesn't appear that Mason is ready to put anything on cruise control. As for Krygier, he still cannot wait to see what Jobst can accomplish.
"I see Mason as a hockey player," Krygier said. "It's through the way he plays the game with his courage, effort and grit." Sounds like excellent advice for just about anything in life.