MHR Shirt Club
Looking for the perfect gift idea? Running out of clean shirts to wear? Look no further! The MYHockey Team is excited to announce our all new MHR Shirt Club. Join the MHR Shirt Club today and every three months you will receive a brand new, old-school style t-shirt displaying the logo of defunct North American junior teams, semi-pro teams and discontinued hockey equipment companies. For only $99 (USD), shirt club members will receive a one year membership that guarantees them four, authentic and unique shirts that can be bought nowhere else! Sign up before September 1st and receive our free promo shirt (must purchase a one year membership). The MHR Shirt Club is the perfect Birthday and/or Christmas present for hockey fans of all ages.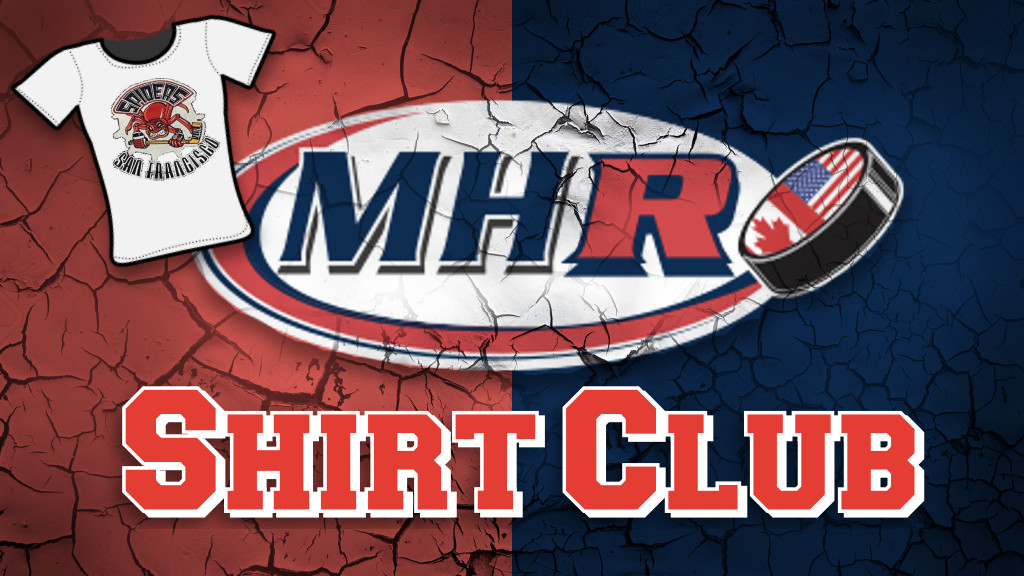 How the MHR Shirt Club Works?
Become a member today and receive exclusive, one of a kind t-shirts displaying the logo of your favorite throwback hockey teams and companies. Shirts will be shipped four times per year, with the inaugural MHR Shirt Club shirt being shipped on December 10th. Starting in 2018, shirts will be shipped on March 10th, June 10th, September 10th and December 10th of each year. Make sure to sign up before the quarterly deadline (Dec 1, Mar 1, June 1, Sep 1) to receive that quarter's shirt. Once a logo is featured, it will be retired into the MHR Shirt Club Hall of Fame forever.
What Logos/Teams Will Be Featured?
Logos will be chosen by the MYHockey Team in addition to the many MHR Shirt Club member's submissions. If you want to see the logo of your favorite old school hockey team on the front of one of our shirts, please send the logo to shirtclub@myhockeyrankings.com
How Much Does It Cost?
1 year membership (4 shirts) - $99
6 month membership (2 shirts) - $52
Quarterly Subscription (we will send you a new shirt each quarter until you cancel!) - $25

*Please note. Additional $5/shirt shipping fee for Canadian addresses. Extra charge of $3/shirt for 2XL and $5/shirt for 3XL shirt sizes.
How Will My Shirts Be Shipped?
All shirts will be shipped through the United States Postal Service. Members should receive their shirt within 7-15 business days of the quarterly shipping date.